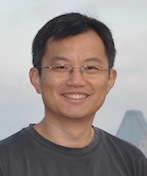 Yu (Brandon) Xia
Department of Bioengineering
McGill University
3480 University Street
Montreal, Quebec H3A 0E9, Canada
Email: brandon.xia@mcgill.ca
Office: McConnell Engineering Building, Room 360
Phone: 514-398-5026 (O), 514-246-8751 (C)

BIOGRAPHY
I am a Professor of Bioengineering at McGill University, where I hold the Canada Research Chair in Computational and Systems Biology. At McGill, I am also affiliated with the Graduate Program in Biological and Biomedical Engineering, the Graduate Program in Quantitative Life Sciences, the Quantitative Biology Initiative, the Centre for Structural Biology, and the Department of Biomedical Engineering. External to McGill, I am affiliated with the Center for Cancer Systems Biology at Dana-Farber Cancer Institute.
I graduated from Peking University with B.S. in Chemistry (major) and Computer Science (minor). I received my Ph.D. in Chemistry from Stanford University, specializing in computational biology with Michael Levitt. After postdoctoral research in bioinformatics at Yale University, I became an Assistant Professor of Bioinformatics, Chemistry, and Biomedical Engineering (secondary) at Boston University. I joined McGill University in 2013 as Associate Professor (with tenure) and was subsequently promoted to Professor.
Honors and awards include: Gold Medal, International Chemistry Olympiad (1990), Howard Hughes Medical Institute Predoctoral Fellow (1996), Jane Coffin Childs Fellow (2004), PhRMA Foundation Research Starter Grant in Informatics (2008), Tier 1 Canada Research Chair (2015), NSERC Discovery Accelerator Supplement (2019).
Explore my Google Scholar profile, ORCID profile, and academic genealogy.
SELECTED PAPERS